Welcome back to the Middle School/High School Weekly Writing linkup! Last week's topic was a bucket list for 2014 and we had a half dozen or so students link up with us. It was fun to read the posts and have our kids interact and learn from each other.
You can link up too! – at any of the following co-hostess' sites:
DaLynn at Holy Splendor
Jennifer at Royal Little Lambs
Laura at Day by Day in Our World
Trish at Live and Learn Farm
Vicki at 7 Sisters Homeschool
Wendy at Homeschooling Blessings
Last week our topic was 2014 Bucket Lists.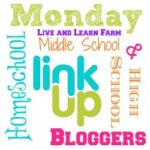 This week's topic: What would you do if you were locked inside Wal-Mart overnight?
If I were stuck in a Wal-Mart overnight, I would have a fun night all by myself.

First, I drag a few of those video game chairs into the greenhouse section of the Lawn and Garden area. Then I find soft, zebra-striped plushy blankets to cover the chairs. I then arrange some tall bushes around my game chairs and drape the blankets on some plants to create a fort.

I wander over to the kitchen supplies to take a blender and toaster oven back to my fort. With strawberry ice cream and some milk, I make delicious milkshakes! I warm up frozen pizza to eat. I eat at a patio table covered with a floral tablecloth and a stone firepit nearby.

When I finish drinking two or three of those milkshakes, I play with the Legos – making sure to mix sets while building my universe all up and down the aisles. I wear a pink sparkly princess costume with an Ironman mask (just because I can.)

After smelling every candle, I pick five to take back to my fort to light. The kind I like are vanilla and cake-scented. I lounge and smell the wonderful, sugary scent in my fort. After not being able to sleep, I find a paperback book that does not have a scantily clad woman on the cover and settle into a game chair, but I fall asleep before finishing it.

When I wake up, I am home in my own bed.

Was it all just a dream?
Stay tuned…our next writing topics:
"What if I could see through walls?" on 1/20 and "What if I became President of the United States?" on 1/27.
Yum